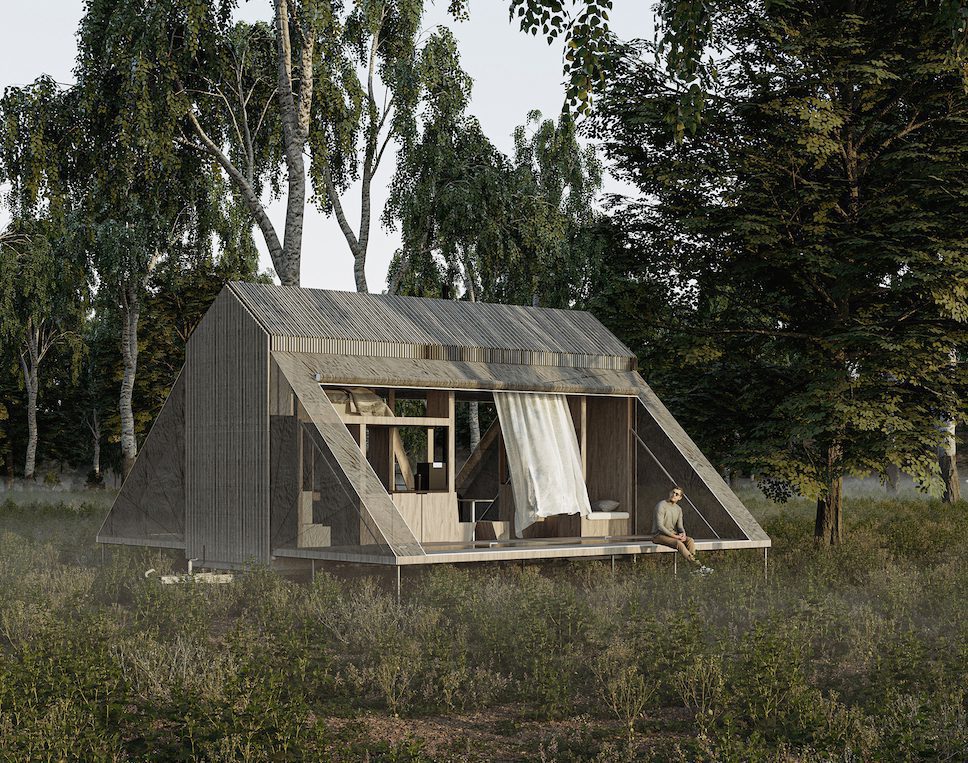 French architecture firm Atelier Fasea has conceived plans for a self-sufficient and adaptable cabin house with folding walls.
The small mobile living unit concept features a folding mechanism which opens the home up to nature and increases its floor space at the same time. Two lateral terraces form outdoor living areas and, so they don't get flooded by rain, they are shielded by tarpaulins. Atelier Fasea's idea addresses the consequences of extreme weather as the result of climate change, with a house that seeks to adjust to the seasons.
Placed on a trailer measuring 7.80m x 2.45m (22.97ft x 6.56ft) wide, the house has a compact rectangular floor plan comprising the 'winter' living accommodation. This includes a kitchen, living room with a sofa bed, a mezzanine-level bedroom, and a shower room with a dry toilet. During the winter months, the timber frame structure and hemp wool insulation help preserve the interior heat.
"It has a wood-burning stove, solar panels, a rainwater collection system and two gas cylinders in case the sunlight isn't enough to generate enough electricity," explains Clément Vignes, architect at Atelier Fasea.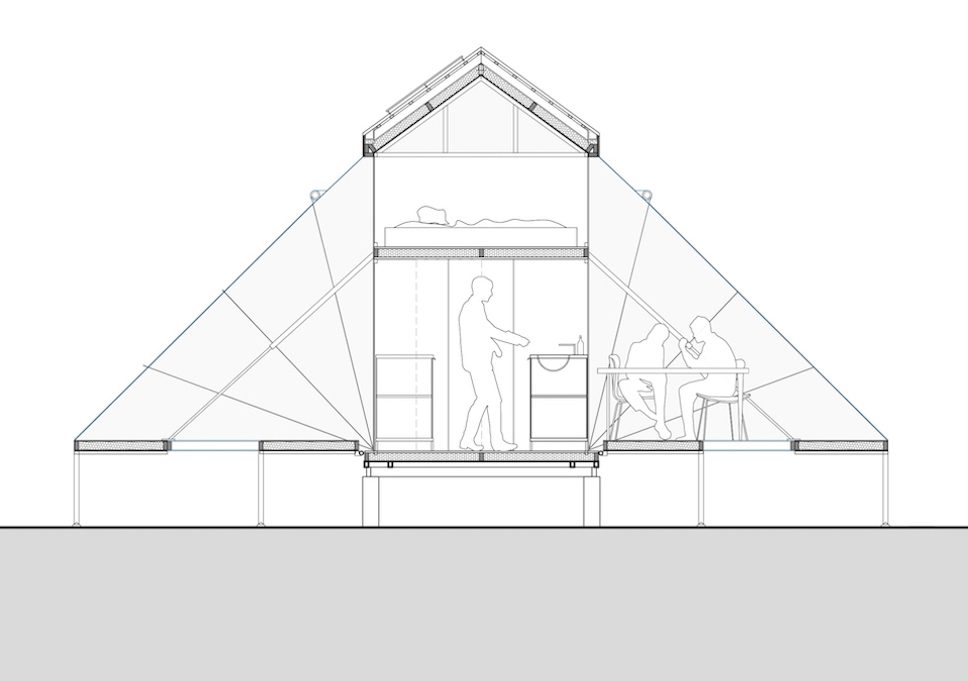 In the warmer months of the year, the elevations can fold down to create generous outdoors mezzanine areas that almost double the size of the dwelling.
"In the spring and summer, the heat increases. We live more outdoors and want to enjoy that too. As a result, the house expands. The façade rotates and becomes a floor. Additional spaces are created between the indoor and outdoor areas. These rooms are covered by a waterproof tent that protects us from rain, sun, and mosquitoes," the architects add.
Currently in the concept stages, the architects at Atelier Fasea are exploring more possibilities with the tiny house and hope to realise the project soon.
Project details:
Status: Concept
Architects: Atelier Fasea (Team: Clément Vignes, Marty Ilievski, and Camille Desille)
Area: 22.2m² (239 sq.ft), including mezzanine
Interior floorspace: 17.7m² (190 sq.ft)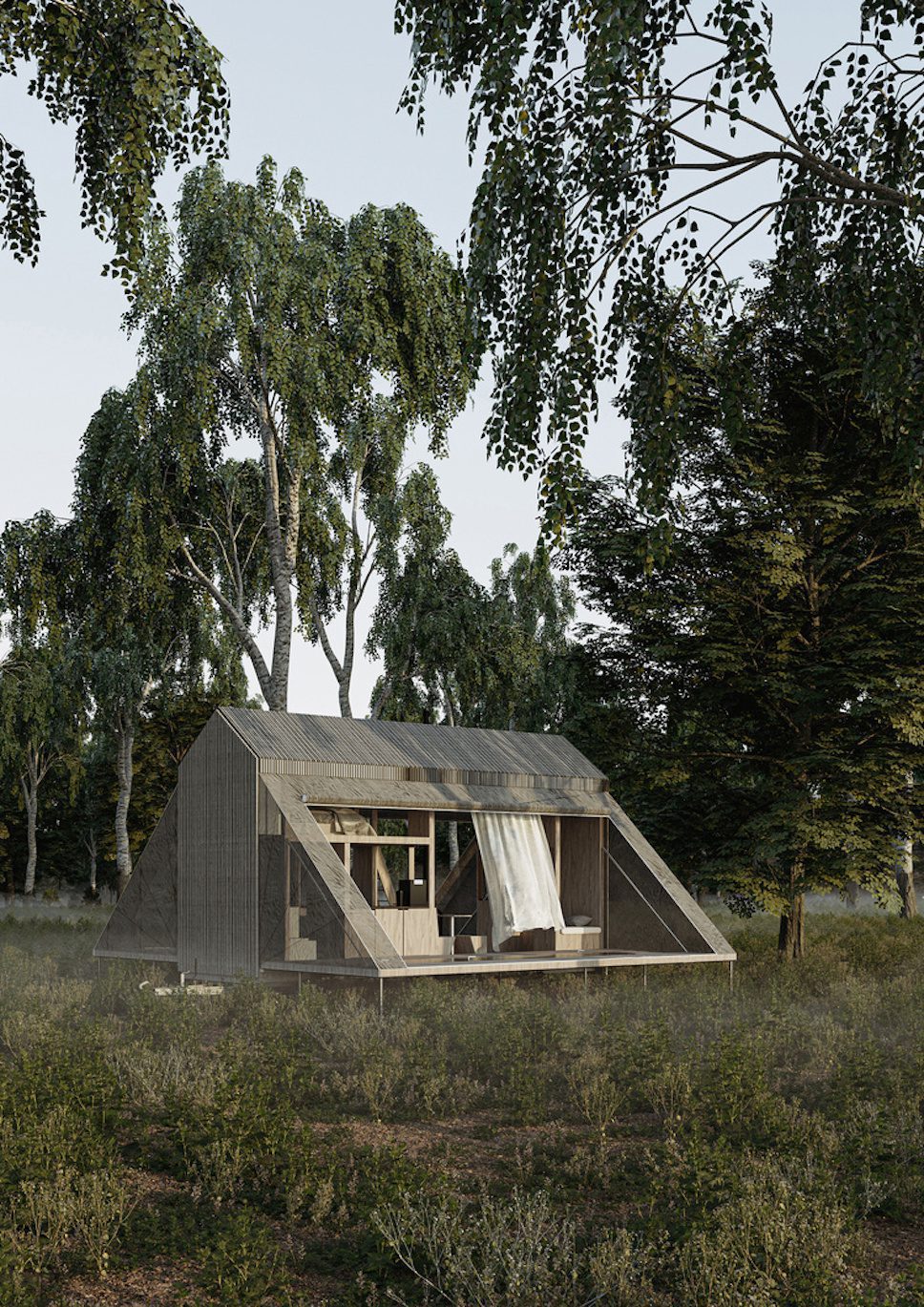 Images courtesy of Atelier Fasea.
See more architectural projects by the French architecture firm, Atelier Fasea.
Take a look at all of the latest architecture news on enki, and read all about this robotically assembled dwelling by AUAR.