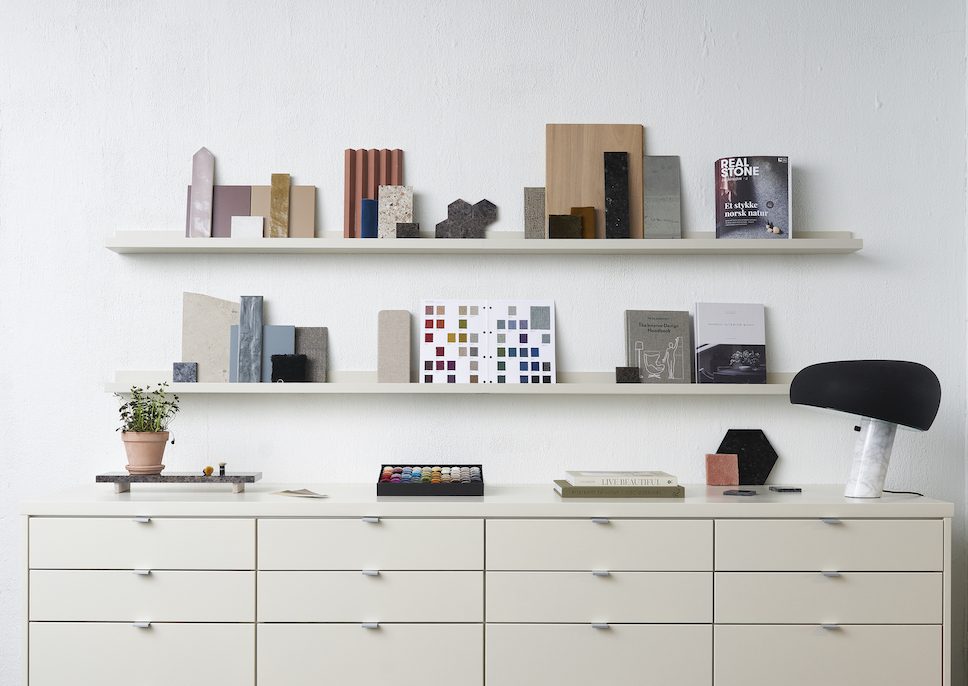 Interior Architect Lene Marie Weum Knudsen called on natural stone experts Lundhs to ensure her new studio workspace is well-equipped for project planning.
Into Design, based in Sandefjord in Norway, work on commercial and residential projects and founder Lene Marie is passionate about creating detail-orientated and thoughtful interiors. Her choice to work with Lundhs Real Stone for her new studio came from her desire for her "inviting and productive working environment with a focus on sustainability," as she explains. The space needs to act as a showroom and a workplace, so it was important for it to be designed as a creative environment with versatility to inspire employees and clients. "Being able to use the entire room for presentations and as a display space gives the room a nice dynamic and makes the office come alive," says Lene Marie.
There is something quite beautiful about working with natural stone that sourced locally and been crafted by nature and sharing ideas with clients using the stone samples to create mood boards. Having worked closely with Into Design, Janne Magnussen, Communications Manager at Lundhs Real Stone, tells us more about the project….

"We wanted to see how our stone, in this case Lundhs Antique, would fit into a small office kitchen breakout area whilst acting as a visual spot in the office. The architect led the design for the kitchen area, and we liked the way it fitted naturally into the office with a small splashback, tap and shelves. It was a good learning exercise for us to see how the architects think when designing their own space. With the display area, we were of course keen for our samples to be displayed in a different manner to the traditional 'in a drawer' way. The wall of shelves displaying samples – a combination of paint colours, fabrics, tile shapes and natural stone looks like an impactful, big mood board and works as inspiration to everyone that enters the room."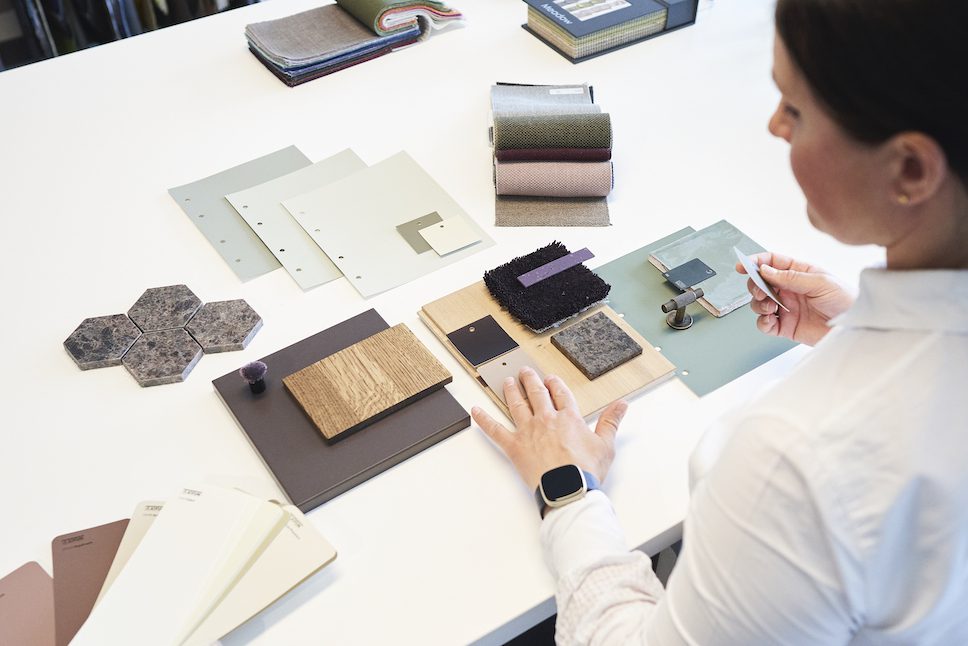 For the studio, working with textures, surfaces, finishes, and a selection of colours is a large part of their design process, so ensuring there was space to sit down with clients and work on material palettes was important. So, what does Lundhs Real Stone bring to the table?
"The tactile and the visual part is of course very important when customers are selecting materials" commentsJanne Magnussen. "Our stone is full of life, and everyone who touches the stone is surprised by how 'soft' the stone feels. Being a natural material there will always be small differences in each piece, and each stone is unique. We find that customers understand the stone much better when they see and feel it in person, and this factor adds a true value to the material."
Discover more about the natural stone from Norway by Lundhs and learn more about Into Design.
Read more design stories on enki.