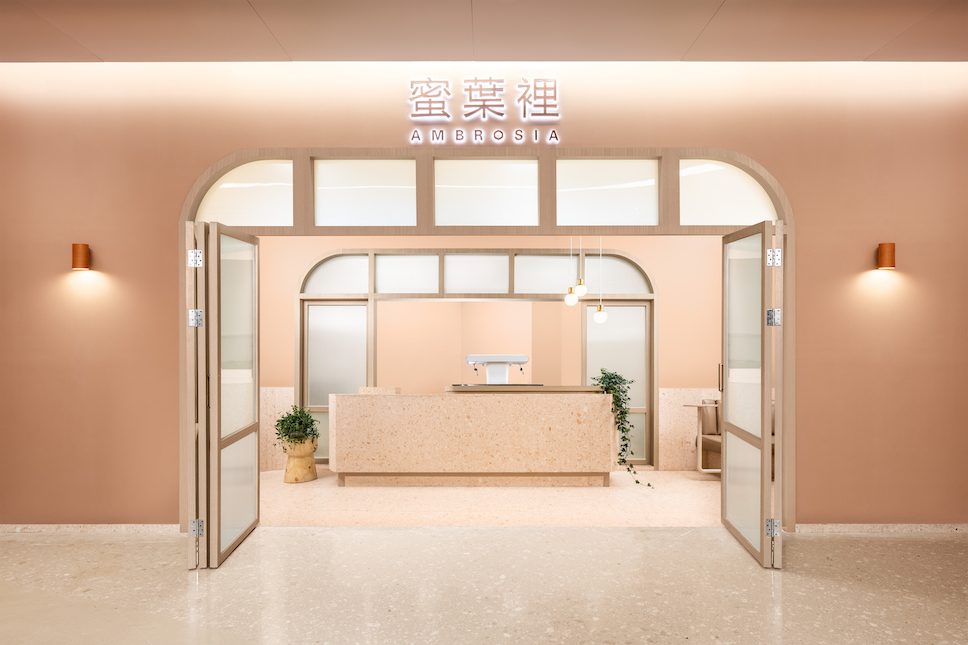 This May saw the completion of Ambrosia (蜜葉裡), an elegant new bubble tea cafe and shop located in the south of China. Designed with the modern tea drinker in mind, the refined space offers a moment of pure relaxation amongst the bustle of Shenzhen.
Contemporary Australian design studio Biasol were enlisted to bring the vision of this fashionable, forward-thinking tea brand to life.
"We translated the values of health, balance and happiness into the design of the venue with a material and colour palette as sweet and refreshing as bubble tea."

Biasol
Although the design overall has a quiet, minimalist feel, the attention to detail is impressive.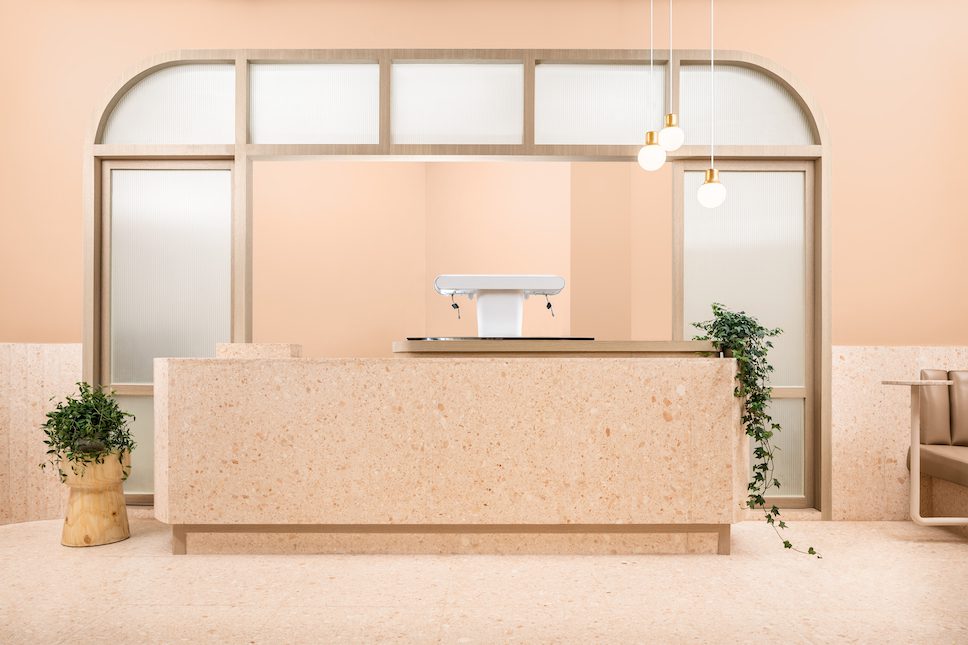 Traditional influences can be noted not only in the layout of the 26.7 sq. m space, which was inspired by historic Chinese courtyard houses (Siheyuan) to help achieve a natural sense of flow, but also in the wooden arches fitted with opaque glass panes in reference to Chinese architectural gateways (Paifang).
These cultural elements are intertwined with a soft, contemporary material and colour palette comprised of pale pink hues and Fibonacci Stone's 'Pavlova' terrazzo. Ultimately, this has fostered a serene and discreetly feminine environment in which tea drinkers can enjoy their beverages.
With a desire to offer an authentic, tasty tea that isn't riddled with sugar, Ambrosia use loose-leaf teas in combination with the finest natural honey. The Chinese name of the brand, 蜜葉裡, translates to "honey leaf" and refers to this mindful use of honey instead of sugar.
It is in these minor, but carefully considered details that Ambrosia as not only a venue, but also a brand, flourishes.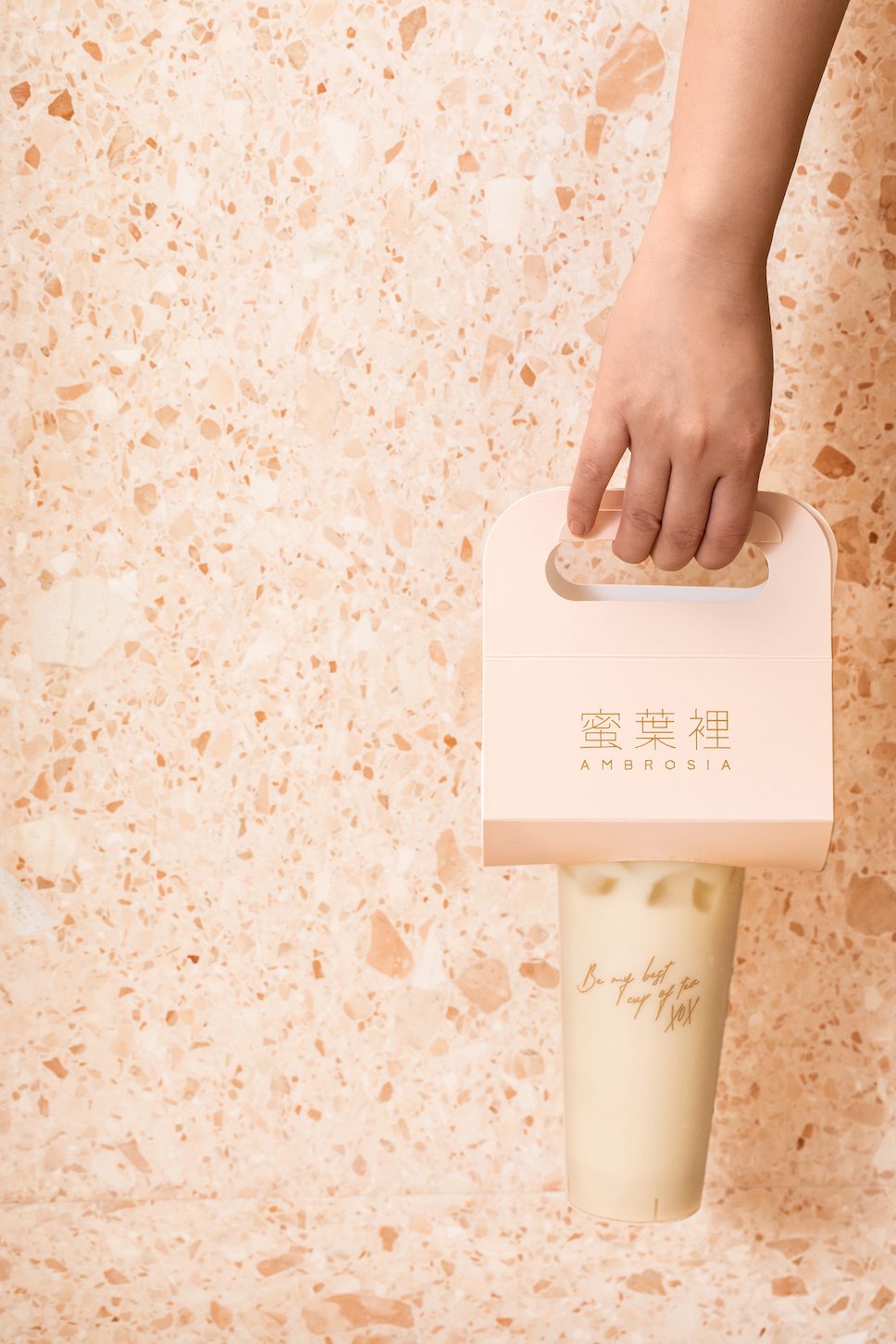 Designer Interview:
We spoke to Biasol to find out a little more…
What was specified in your brief from the client?
Firstly, they wanted to team up with an international studio to bring something unique to their hometown of Shenzhen.
The brief was simple, to be inspired by traditional and modern elements. Drawing inspiration from traditional techniques and modern materiality to create a brand and interior design that reflected their core business – healthy tea for the modern and mindful customer.
What atmosphere did you want to create? How did you achieve this?
The environment we wanted to create focused on using colour and material to create impact. Drawing inspiration from natural materials, and fusing it with modern trends such as terrazzo, we were able to fuse our Melbourne hospitality experience into the design. The atmosphere is light and simple, like their tea product, with quality materials and functionality at the heart of it.
Was the design purposefully feminine? Why was this?
Their clientele is mostly female, stylish and fashionable. We wanted to ensure the shop attracted a certain type of demographic with the modern, light complementary palette fusing traditional and manmade materials to create colour impact.
What did you intend for the consumer experience at Ambrosia to be?
It's about the product at the end of the day, the tea is a healthy version, substituting sugar syrups with natural honey to sweeten the quality teas. It's a lifestyle choice to drink healthier, and we wanted the experience to represent tea for the modern-day health conscious customer.
Project photographed by James Morgan
Pore over more restaurant projects here