Adam Knibb Architects were approached by a climate scientist to design an eco-friendly family home, and the finished building is a trailblazing example of adaptive reuse.
Situated within the Surrey Green Belt in Hampshire, the sustainable three-bedroom house responds to its surrounding natural environment and creates minimal visual impact. Aggregate foundations, locally sourced flint, and a CLT timber structure shape the contemporary design, blending it harmoniously into its picturesque setting, and also proving that it's possible to recycle, re-source, and reduce impact in construction.
The Tarn Moor project was built using recycled elements of the existing house, along with a glulam grid structure which fabricates flexible foundations without the need to use concrete.
By utilising a range of sustainable building materials, such as crushed foam glass, compressed aggregate foundations, limecrete, and locally sourced snapped flint, the architects have ensured that the embodied energy is minimised and successfully kept to a tight budget.
"The unconventional winged roof exhibits an alternative technology for CLT. In this instance, Tarn Moor demonstrates that glulam is a suitable alternative for steel beams in atypical buildings as well as buildings that conform to a standard vernacular," explains Adam Knibb, Director at Adam Knibb Architects.
Describing what makes this project unique, he adds: "The internal walls are not load bearing, with an exception to the structural chimney, therefore there is great future potential for reformatting the interior layout in the future. This ability future proofs the property's ability to be adapted to conform to any changing needs and desires of this owner and subsequent homeowners."
A monolithic base gives a solid weighting to the family home, splitting the living and bedroom spaces across two floors. Within the structured grid layout, the central section of the first floor contains the kitchen, lounge, and dining area, all within an open-plan arrangement. The western end contains a large master suite, which is serviced by an en suite and dressing room.
Structurally, the first floor's lightweight design is characterised by a series of timber posts and beams which resemble the tall, surrounding trees. From an exterior view, it almost disappears into the woodland, aided by its winged roof structure, and the interior is enhanced by dual aspect views from all points in the room. A luxurious balcony offers views across the tree canopy and can be enjoyed from the south side of the building.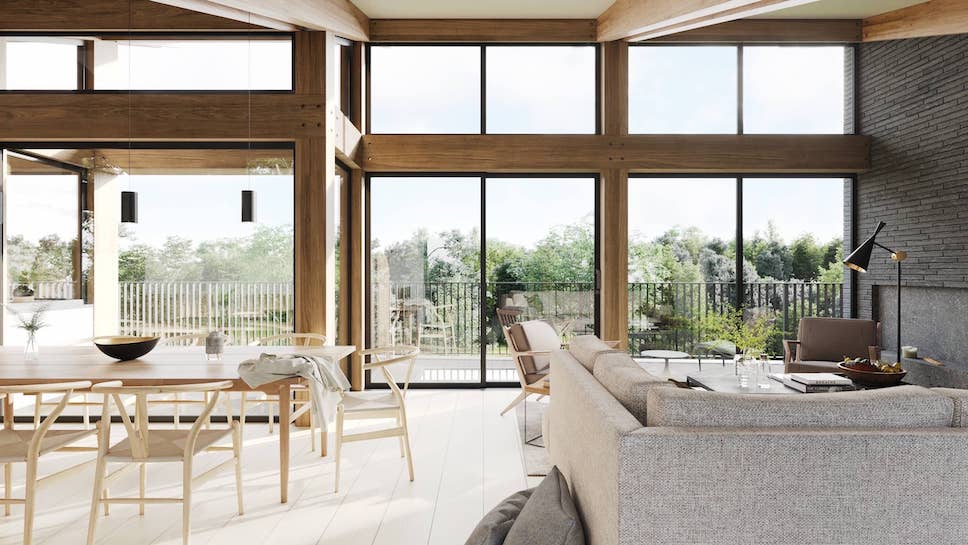 As a project, Tarn Moor strived to "reduce the carbon energy used in construction", according to Adam Knibb, and it succeeded in its aims. For example, the crushed foam glass insulation (used in the base of the walls) is made from 60% recycled glass to reduce landfill waste and it's non-polluting too.
The property also utilises sustainable energy sources including solar panels, a renewable electricity supply, MHVR (Mechanical Ventilation with Heat Recovery), and a ground source heat pump.
Project details:
Location: Surrey, Hampshire, UK
Architects: Adam Knibb Architects
Project type: Residential
Main contractor: Hickory Construction Ltd
Structural engineer: Eckersley O'Callaghan
Photography: Richard Chivers
Discover other sustainable-led projects by Adam Knibb Architects.
Read more residential architecture case studies on enki, including the Sea Breeze holiday home wrapped in pink-pigmented micro cement and a remodelled and future proofed Victorian terrace house in London.